Next Dance Weekend
Page updated: January 7, 2019
---
Trailblazers invites you to an inspiring, friendly
weekend of Advanced & Challenge Square Dancing.
Saturday / Sunday
February 2-3, 2019
Ben Rubright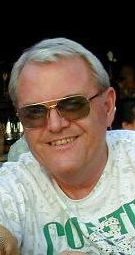 Ben Rubright, a long-time favorite of Trailblazers has always had a philosophy of fast-moving calling, smooth body motion, and unmistakable "wind-in-your-face" choreography that keeps dancers on their toes from Mainstream through C4. He spurs dancers on to smooth dancing to the rhythm of the band wherever he calls.

Ben began dancing in the fall of 1976 and soon became fascinated by how a caller could put together material and make a square of dancers move to the beat of the music. He started experimenting with calling in 1977, and the rest is history! He strives to put calls together that fit, and his dancers always reflect this goal. He is an accomplished caller, and has been on the staff of various Advanced and Challenge Conventions as well as numerous Festival weekends throughout the US, Japan, and Europe.

Mel's Dance Center
5946 Westminster Blvd
Westminster CA 92683
---
Saturday, C-1 & A-2 Dances
• C-1 Dance: 11:00 am - 1:30 pm, last tip increased difficulty
• Lunch Break: 1:30- 3:00 pm
• A-2 Dance: 3:00 - 5:30 pm, last tip increased difficulty
NOTE: Computer Squares are used for all Saturday sessions.
---
Sunday, C-2 & C-3A Dances
• C-2 Dance: 11:00 am - 1:30 pm, last tip increased difficulty
• Lunch Break: 1:30 - **2:30 pm (Change of Time February 2019 only)
• **C-3A Dance: 2:30 - 5:00 pm, last tip C3 (Change of Time February 2019 only)
** February 3, 2019 only
---
Singles Rotation available. Square dance attire is optional.

You are encouraged to invite your Square Dance friends to Trailblazers weekends by forwarding this email to them. They'll be glad you had some time to share together.

By-the-way . . . Encourage your A2 and C1 dancing friends to give our dances and diverse caller lineup a try. We are truly a unique organization. As a way to thank you for bringing new full-level dancers to a Trailblazers dance who have not been to Trailblazers before, you'll get a free pass for one (1) Trailblazers Square Dance session.

We look forward to sharing a dance or more with you.
| | |
| --- | --- |
| Questions: | |
| Tom & Pat Roberts (562) 756-1915 | |
| | |
---